Out This Week: One Piece, Bilal, Mitchiko and Hatchin and More
This week's new animated home entertainment releases may be small in number but they still contain some gems. UK readers are getting an overdue release of
Bilal: A New Breed Of Hero,
the first CG animated movie produced in the Middle East (read our review
here
), although sadly no sign of a Blu-Ray edition.
Across the pond,
One Piece's
physical releases continue with the first season 10 collection, while cult fave
Michiko and Hatchin
(
reviewed here
) gets a new Blu-Ray and Digital release on
Funimation's Essentials
range. Don't forget: keep reading after the releases to see some great animation bargains!
Click the links below to order via
Amazon
or
RightStuf.com
(affiliate links used where possible). All information provided is correct at the time of writing to the best of our knowledge and is subject to change.
Titles marked with * are re-releases. CE= Collector's Edition. LE= Limited Edition
UK DVD and Blu-Ray Releases For June 8, 2020
FORMATS: DVD, Digital
FORMATS: Blu-Ray, DVD, 4K, Digital
US DVD and Blu-Ray Releases For June 9, 2020
Heroic Age: The Complete Series* (Funimation, PG) Fantasy anime.
FORMATS: Blu-Ray+Digital
Amazon
|
RightStuf
Michiko & Hatchin: The Complete Series* (Funimation, TV-MA) Action anime from Sayo Yamamoto.
Non Non Biyori: Vacation (Sentai Filmworks, TV-PG) Movie spin-off.


This Week's Deals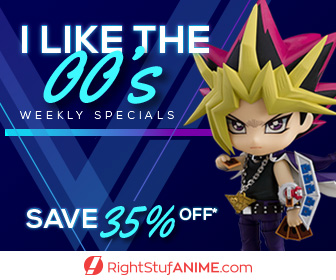 RightStuf Anime is running an I Like the 00s sale, which includes some of the most popular anime of the noughties, including savings off the recent releases of Tokyo Godfathers and Howl's Moving Castle Steelbook
,
Millennium Actress,
Spirited Away (Special Edition)
and more.
Amazon also has some discounted Ghibli, with
Nausicaa
,
The Cat Returns
and
Princess Mononoke
all down to $12.99 on Blu-ray/DVD Combo. Outside of anime,
Pixar's Onward is now down to $19.37
On Amazon UK, get some excellent stop-motion with
Shaun The Sheep: Farmageddon
down to £9.99, and
Missing Link for just £7.00.
Or some classic anime with
Akira on Blu-Ray for just £4.99
.